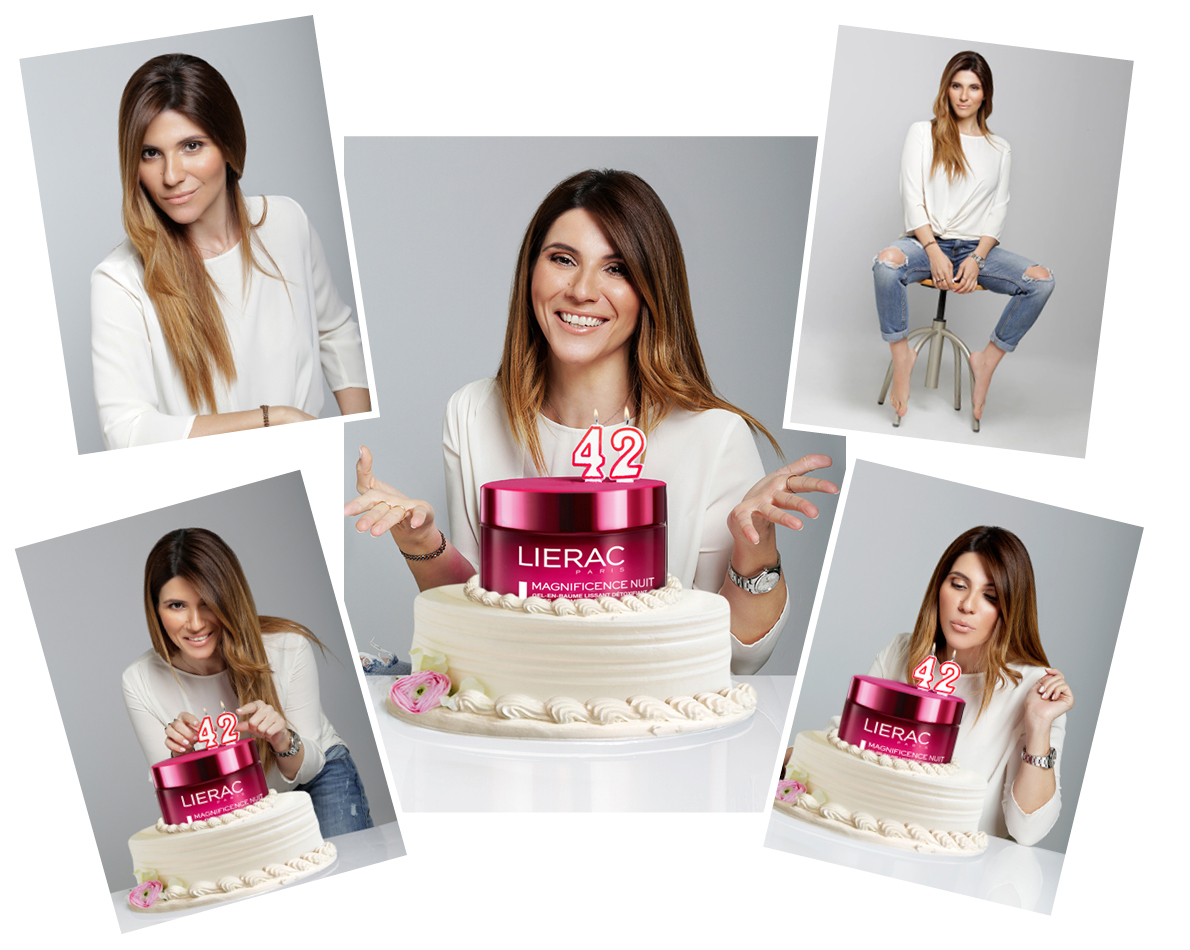 What does a woman wish when blowing out 42 candles?
Find out in this post my wishes and if you want, make a wish with me!
By Mania Bousmpoura
Today, 11th of May, it's my birthday… You know I always celebrate this day. Because, first of all, I've managed to live one more year and I am here bright and strong. Even richer… in experiences, acquaintances with young people, with creative, beautiful and happy moments, difficult moments I managed to get over, startups, trips, new goals, love… And there are still a lot that I would like to experience… So, why shouldn't I feel happy today? I am sharing these thoughts with you because you are also one of the greatest things that happened to me this year. The IQbeaute and the wonderful people around it, all of you is the reason I feel happy today. You give me strength and inspiration. Thank you! Three years ago, I made some wishes on my blog, beautyco-co.com, before turning 40… This time I will do the same thing again… I am blowing out the candles and I wish…
[thb_dividers style="style8″]
To keep dreaming of the impossible! Why not?
To be healthy both physically and mentally.
To be endlessly loved by my husband, as I am now.
To keep loving him passionately.
To feel desired.
To have my friends by my side, the few and special people who are true friends…
To enjoy more intensively the small, everyday pleasures.
To have a more creative, professional future.
Never be afraid for anything.
To keep my energy at the highest level.
To remain being frank and sincere.
To live with more optimism my days in wonderful Greece!!!
To maintain my weight (or… maybe to lose 1-2 kilos, but every spring the same story…).
To continue wearing my high heels just as easily.
Not to compromise myself in any area of my life…
Not to be anxious about what is going on and what is not.
Never be fed up with surprises.
To keep feeling satisfied and happy for what I have.
To enjoy my inner fullness, which I worked for.
To keep away flatterers and patterers!!!
Never quit my trips to my beloved Paris.
To keep sleeping peacefully at nights having a clear conscience.
To maintain my high standards.
To progress as time goes by.
Never stop enjoying my birthday.
To maintain the skin and hair I have always had for many years.
To remain being the young child I, once, used to be.
To enjoy the splendor of life with all my senses!
[thb_dividers style="style8″]
And what will my gift be?
Three years ago I asked for an excellent anti-aging range for my skin which meets my needs, offers more years of youthful appearance but also it is designed for women like me! That is, for women who have realized that in order to be really beautiful, they should live beautifully every day. So beauty is with you forever, no matter how many years will pass. My gift was then the new cosmetics range by LIERAC, "Magnificence". A range that I had singled out for its wonderful texture, scent and colours, the precious natural ingredients but also its innovative technology. A range which is able to face wrinkles and other signs of aging, offer both firmness and unique glow to the skin, but also a significant range as it supports that:
LIFE is full of MAGNIFICENCE, that's the only way that it's worth living and we should do so!
This year, too, Magnificence had a big surprise for me. This month the new Lierac Magnificence Nuit cream is being released. A new product that I love (as you know we try the products on before being released). An enjoyable gel-in-balm that functions as a mask throughout the night. It detoxifies and smoothes the skin, it acts against wrinkles and sagging skin, it softens the facial features and it helps you wake up brighter the next morning. It is based on a complex which contains among others pomegranate flower as well as on the hyaluronic acid. So, as you can see the vanilla and pomegranate cake with the Magnificence Nuit is not a random surprise by Lierac! Nevertheless, this day I deserve to enjoy a big piece without any regrets… Diet starts tomorrow!! I am waiting for your wishes at [email protected] because as I have already written above, you fill me with inspiration and strength!
Photos: Photis Karapiperis  |   Make-Up: Hara Alatza
/ Freddy Makeup Stage   |  
Hair: Vera / A&K team